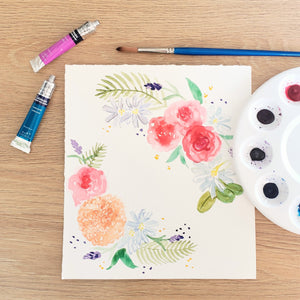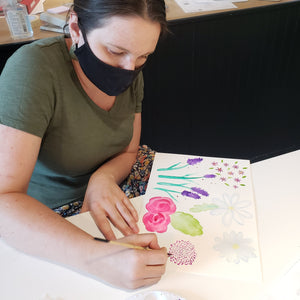 Product image 1

Product image 2

Explore the playful and colorful nature of watercolor painting in this fun and relaxed workshop.
We'll work step by step together to practice the building blocks of various flowers and leaves, with a loose and slightly abstracted approach. 
The class will wrap up with a final composition of florals and you'll leave with a new painting technique to add some sweet floral doodles to future greeting cards or wall art.
This is perfect for beginners, and also those with some experience desiring to try something new. All supplies needed for the workshop will be provided.
Note: If a date is sold out, join the waitlist to be contacted when a spot opens up.
Would you like a kit to continue the fun at home after class?
Select the "Class Registration & Watercolor Kit Bundle" option (+$38) and you'll take home from class a kit with just about everything you need to continue the painting fun. The kit includes three 8ml tubes of high quality Winsor & Newton Cotman watercolor paint (red, yellow, and blue), a round brush, flat palette, and pack of 5"x7" watercolor paper.
Teaching Artist
Claire Elliott is a painter living in Portland, OR. She works in oil and watercolor and finds inspiration in the natural world. Painting everything from botanical gardens, to rare crystals to her own houseplants, she is enchanted by color.
Claire has been teaching watercolor to adults and children for ten years and loves to explore the possibilities of paint through teaching new watercolor techniques. Originally from New York, she has lived all over the US and is very happy to call Portland home with her husband and daughter. You see more of her work on her website claireelliott.com and on Instagram @claire.elliott.art
IMPORTANT NOTE:
In-person workshops are currently not available.
Check out our virtual classes to join in on the crafty fun!