Native Woodland Tabletop Garden Workshop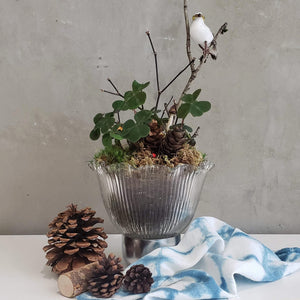 Product image 1

Product image 2
Product image 3
Product image 4
Product image 5
Come learn about the beauty and importance of Pacific Northwest native plants for our local habitat while you create a unique sustainable tabletop mini-habitat garden.
In this hands-on class you'll use a repurposed lamp globe to house your new native plant and express its natural woodland habitat through basic plant design approaches integrated with flower arrangement techniques using natural and fun elements, such as moss, woodchips, branches, and faux bird or insect additions. 
During class we'll discuss what native plants are and explore their versatility and benefits, such as their important role for our local declining populations of birds and insects.
You'll walk away with a woodland tabletop garden and be inspired and empowered with lots of information and resources on how to help our local habitat, even if you're an apartment dweller or a renter without garden space!
No experience necessary and all supplies and equipment will be provided. 
Registration will close 3 days in advance of class.
Note: If a date is sold out, join the waitlist to be contacted when a spot opens up.
This class is taking place in our Portland studio. 
 teaching artist:
Weina Dinata is the owner of Poppy & Finch, a botanical design studio inspired by the beauty, versatility and the crucial role of our naturally occurring native plants for our habitat. She helps people to connect with nature in a deeper, meaningful and ecological way through her one-of-a-kind upcycled table-top gardens, wall-mounted or hanging gardens, educational gift-products, hands-on workshops, speaking engagements, and small-scale gardening consultation. 
It was born out of the marriage between her fascination for the beauty and purpose of native plants for our habitat and her design background from graphic to botanical design. Nature is her mentor whether on how she creates her botanical creations and gift products or on how she learns to accept herself through honoring and appreciating our own native plants.
IMPORTANT NOTE:
In-person workshops are currently not available.
Check out our virtual classes to join in on the crafty fun!