Beginner's Loom Weaving Class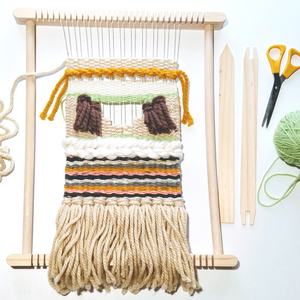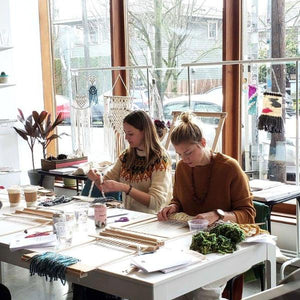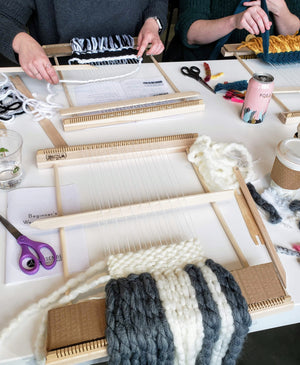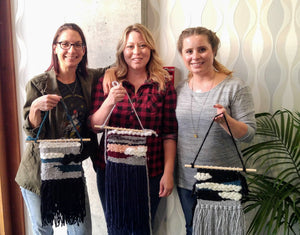 Product image 1

Product image 2

Product image 3

Product image 4

Weaving is super versatile and really fun!
Join us to experience weaving on a wooden frame loom as we explore the variety of colors, designs, and textures of this popular fiber art. In this workshop you'll learn the basic stitches and create a woven modern wall hanging that will add some instant charm to your space. This workshop is designed for beginners and in addition to your tapestry you'll leave with the confidence and knowledge to continue practicing this beautiful and relaxing art form at home.
All necessary materials, equipment, and instruction will be provided.
Note: If a date is sold out, join the waitlist to be contacted when a spot opens up.
(optional) Would you like to bring home the loom and tools from class?
If you select the "Weaving Loom Kit Bundle" option during registration (+$45), you will take home your weaving kit used in class. This includes a 14"x18" wooden frame loom, shuttle, shed stick, and weaving needle. Just about everything you'll need to continue making masterpieces!
Teaching Artist:
Liz Wright, the founder and Chief Creative Lady of Assembly, is a multi-disciplinary maker with an extensive history of creative projects and pursuits. She considers herself a lifelong learner and enjoys the challenges and thrills of learning a new skill and supporting others to do the same.
IMPORTANT NOTE:
In-person workshops are currently not available.
Check out our virtual classes to join in on the crafty fun!