DIY Copper Pipe Magazine Rack Class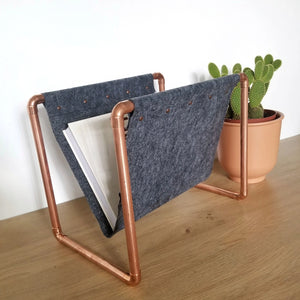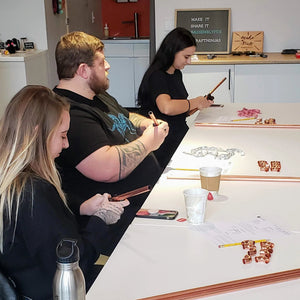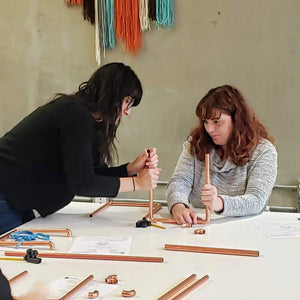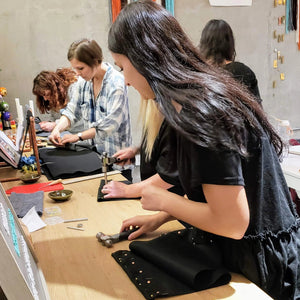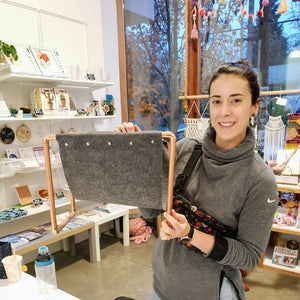 Product image 1
Product image 2

Product image 3

Product image 4
Product image 5

Product image 6
Come learn how to make a useful magazine rack from scratch out of gorgeous copper pipe!
Both functional and stylish, this hands-on workshop will guide you through the steps of turning hardware store copper pipe into beautiful home decor. You'll start by measuring your lengths and practice proper pipe cutting techniques using the cutting tool-- no hassle and no mess! After assembling the pipe into the rack design, you'll choose your fabric, black or heather gray, and secure it using metal rivets and the setting tool. And finally we'll give it a final polish for a bright finish and discuss options for keeping your copper sparkling or letting it take on an aged look.
You'll leave with a full-sized rack ready to store magazines, comics, and books that looks perfect next to your sofa or armchair.  This experience will also start you on the path to getting creative with copper pipe, just one more wonderful and accessible material to create with!
Note: If a date is sold out, join the waitlist to be contacted when a spot opens up.
Teaching Artist
Caitlin Arbeiter is a visual merchandiser from New York now based in Portland. With her degree in architecture, Caitlin has always been drawn to design & DIY projects. As the resident retail designer of Assembly, you can see her display shelves in the store window. Caitlin is passionate about helping students bring a unique expression to their handmade works of art. Outside of Assembly, Caitlin can be found at a thrift store or tending to her vegetable garden. She looks forward to helping everyone realize their DIY dreams!
IMPORTANT NOTE:
In-person workshops are currently not available.
Check out our virtual classes to join in on the crafty fun!