[Online] Paper Mache Workshop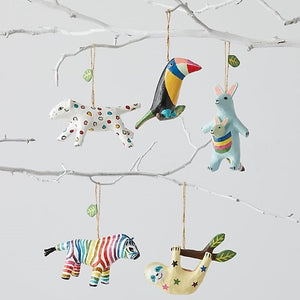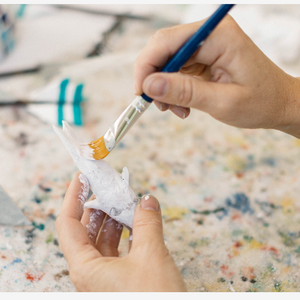 Product image 1

Product image 2
Product image 3
Product image 4
Product image 5
Join us for a live virtual online class to learn the art of paper mache!
Learn how to create with the magic of paper mache during this special event workshop with Los Angeles-based artist Kim Baise! Perhaps you've seen her amazing wall art installation of paper mache ice creams just down the street at Eb & Bean?!

In this very hands-on class you'll learn the fundamentals and build your very own small hanging sculptural ornament. You'll be able to use the skills learned in class to create custom holiday ornaments, baby mobiles, wall art, and much more. The sky's the limit with this simple yet versatile medium!
No experience is necessary!
This workshop is recommended for ages 10 and over and adult supervision is required due to the use of the oven.
How to join
Complete the registration process and shortly thereafter a detailed supply list will be emailed to you.

Your participation in class will be hosted virtually through Zoom and the link for joining will be emailed to you 24 hours before class.  Learn more about the technology and accessing our online classes.
Class time listed is Pacific Time Zone.
Class Supplies Needed
A detailed supply list will be emailed to you shortly after registration. Supplies needed include items such as newspaper, cardboard, glue, paintbrush, scissors, acrylic craft paint, etc.  You'll also need access to an oven during class to briefly bake your piece!
Cancellation Policy
Please let us know as soon as possible if you're unable to attend. We will issue refunds, transfers, or credits of the class registration fee and require contact via email in advance of the class with the request. 
Class Packs
Would you like to use your Class Pack to sign up for this class and enjoy the sweet discount? Sure! Simply enter your Class Pack code during checkout. 

Teaching Artist

Kim Baise is a Los Angeles-based artist and designer with a masters in printmaking and sculpture from NYU. Using papier mache and organic and repurposed materials, her mobile constructions and figurative assemblages embody the energy of her mark making. See some of her work here: kimbaise.com. While referencing traditional Cartoneria her ice cream trucks, she-ra feministas, and crying eyes reveal her own visual narrative on the everyday. Jikits is the result of Kim's playing in her own creative inner world. Her works can be found in Portland at Eb & Bean and Hello Good Morning!