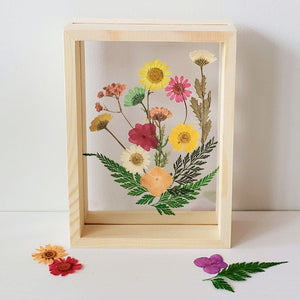 Date: Thursday, April 28, 2022
Time: 11am-12pm Pacific / 12-1pm Mountain /  2-3pm Eastern

Sign up no later than Friday, April 15 to receive your supply kit in time!
Quantity limit is one kit per person.
Join us for a live virtual online class to learn how to turn fresh flowers and foliage into everlasting works of art!
In this hands-on class you'll learn all about the process of flower pressing. This is a wonderful way to capture and preserve the inherent beauty of nature to decorate items such as jewelry, wall art, greeting cards, phone cases, and more!
We'll talk about the best plants to work with, how to prep them for the press, and demonstrate both quick and traditional methods of pressing.
You'll then spend the remainder of the workshop arranging a composition of pre-pressed dried flowers and foliage on clear tiles to assemble inside a 4"x6" wood frame for display.
No experience necessary and all supplies, equipment, and flowers will be provided.
How to join
Register through this page and during the checkout process enter your shipping information to receive the supply kit. Please complete the full checkout process and ensure you've received an email confirmation of your order.
Please sign up no later than Friday, April 15 to receive your kit in time.
The class on Thursday, April 28 will be hosted virtually through Zoom.
Supply Kit
The supply kit will be shipped via Priority Mail and will include everything you need for the project:
4"x6" double-paned wood frame

Variety of pre-pressed flowers and leaves
Adhesive and applicator tools

Sheet with flower pressing tips for future projects