String Art on Wood Workshop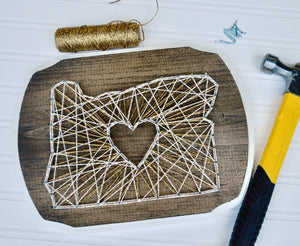 Product image 1
Product image 2
Product image 3
Product image 4
Give your wall a unique pop by creating a piece of home decor with the technique of dimensional string art!
We'll be honoring our beautiful state of Oregon with the design and you'll have a chance to customize yours with the string pattern and color of your choice. In this hands-on class you'll learn the steps involved, including painting the wood, forming the outlines with hammer and nails, and then weaving the strings. All necessary tools and materials will be provided and you'll head home with a finished 9"x12" original piece of art.
teaching artist:
Callie McAuliffe (she/her) is a native Portlander who found her love of arts and crafts at an early age. After briefly experimenting with many mediums, she finally found her favorite creative outlets. Artist and creator behind Callie Mac Design, she now focuses on all things wooden and woven. Callie loves bright colors and drawing inspiration from the beauty of the Pacific Northwest. She has been teaching classes since 2018, and when not teaching arts and crafts, she is teaching students life skills as a middle school counselor. Craft nights and crafternoons are some of Callie's favorite things, especially when they bring makers together! 
IMPORTANT NOTE:
In-person workshops are currently not available.
Check out our virtual classes to join in on the crafty fun!