Chunky No-Needle Knitting Workshop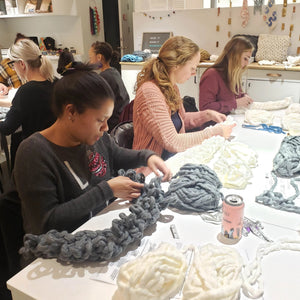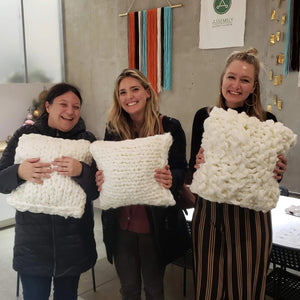 Product image 1
Product image 2

Product image 3
Product image 4

No need for knitting needles when you learn this tabletop hand knitting technique using beautifully thick extra chunky yarn!

It's an even simpler approach than arm knitting and the resulting fabric works up wonderfully quick and has a comfy feel.  By the end of class you'll have a finished 14" double-sided knit throw pillow ready to get cozy with on your couch or armchair. After you master the basics and back at home with more yarn and time you can just work bigger and you've got a chunky knit blanket.
All supplies will be provided, including a choice of fiber color, and the cushion insert.
Teaching Artist
Liz Wright, the founder and Chief Creative Lady of Assembly, is a multi-disciplinary maker with an extensive history of creative projects and pursuits. She considers herself a lifelong learner and enjoys the challenges and thrills of learning a new skill and supporting others to do the same.
IMPORTANT NOTE:
In-person workshops are currently not available.
Check out our virtual classes to join in on the crafty fun!