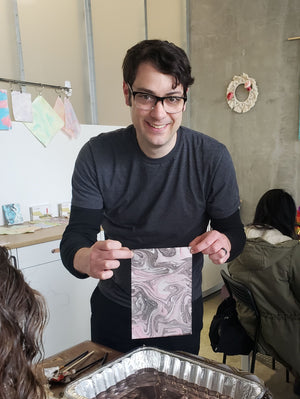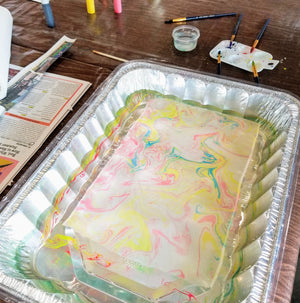 Product image 1
Product image 2
Product image 3
Product image 4
Come learn how to make hypnotic free flowing patterns on the surface of water and then transfer them to create beautifully marbled paper and fabric. We'll start with a brief overview of different types of marbling techniques from around the world and then we'll jump right into experimenting with making designs using various colors, tools, and approaches.
In class we'll be focusing on the Japanese technique of Suminagashi using water and a special ink, no other crazy additives required! So it's a wonderfully straightforward craft to continue practicing at home and it's also one of those "no fail" type projects where even the least craftiest person can make something unique and beautiful. You'll leave with a set of freshly marbled paper, small cotton fabric squares, a silk scarf, and a new craft addiction!
teaching artist:
Liz Wright, the founder and Chief Creative Lady of Assembly, is a multi-disciplinary maker with an extensive history of creative projects and pursuits. She considers herself a lifelong learner and enjoys the challenges and thrills of learning a new skill and supporting others to do the same. 
IMPORTANT NOTE:
In-person workshops are currently not available.
Check out our virtual classes to join in on the crafty fun!