[Online] Wood Burning Class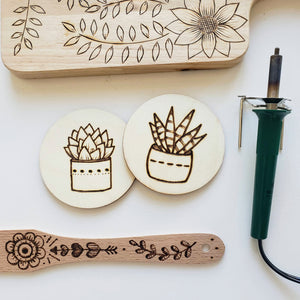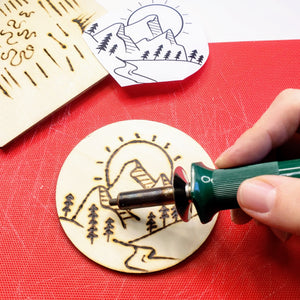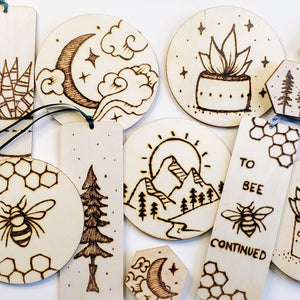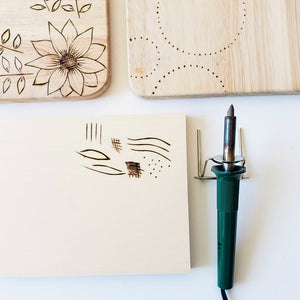 Product image 1

Product image 2

Product image 3
Product image 4
Product image 5

Join us for a live virtual online class to kickstart your pyrography wood burning skills-- with all the tools and supplies provided! 
Follow along and ask questions in real time with instruction and demonstration from our talented Teaching Artist via the Zoom video platform. You'll log off with the inspiration to get started on your next project! 
In this beginner-friendly class, you'll learn the basic techniques of decorative wood burning to create unique handmade items.
Using a pen-like burning tool, you'll start by practicing various mark-making techniques to build confidence and explore the possibilities of this fun craft. Along the way, we'll discuss tools, wood selection, and safety considerations.
Next, you'll apply these new skills to decorate functional objects: drink coasters, bookmarks, and magnets! During class we'll get you started, including demonstrating how to transfer a design on paper to wood and advice on burning techniques and approaches to use. Various designs are included with the kit, but you could transfer your own custom design if desired.
Not only is this a relaxing hobby that will let you release a little creativity, but it also makes for a convenient craft you can do at home!

No experience necessary and supplies provided.
How to join:
During the registration / checkout process, shipping costs for the supply kit will be added to the final total.
Supply kits typically ship about 2 weeks prior to class. Please sign up well in advance to make sure you receive your supply kit in time!
The class will be hosted virtually through Zoom and the details for joining will be emailed to you about 24 hours before class and it will also be included in the supply kit.
Class time listed is Pacific Time Zone.
SUPPLY KIT:
Wood Burning Kit includes:
Solid point wood burning tool with 4 different tips (shader, universal, cone, and flow)
5" x 5" poplar for practicing
Wood items: Pair of 4" cork-backed coasters, bookmark, and magnet
Design sheets
Transfer paper
Tape
Pencil
Cotton storage bag

Teaching Artist

Liz Wright, the founder and Chief Creative Lady of Assembly, is a multi-disciplinary maker with an extensive history of creative projects and pursuits. She considers herself a lifelong learner and enjoys the challenges and thrills of learning a new skill and supporting others to do the same.