Metal Leaf Glass Ornament Class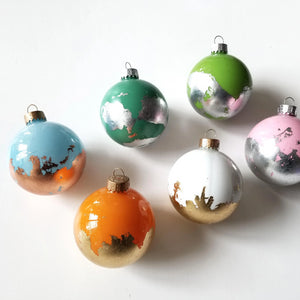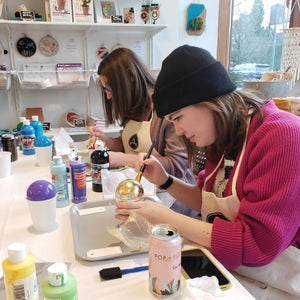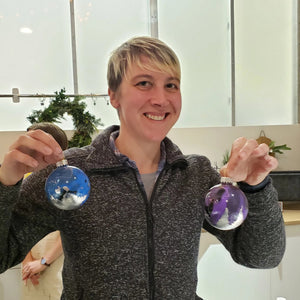 Product image 1
Product image 2
Product image 3
Product image 4

Product image 5

Product image 6
Practice the art of embellishing with metal leaf as you create a set of two gorgeous heavy duty glass ornaments.
You'll add color to the clear glass and then learn the ins and outs of working with adhesive sizing and thin metallic sheets as you apply your choice of silver or gold leafing as a unique brushed accent. These handmade ornaments will be perfect for decking the halls or giving as gifts! 
Beyond the holidays you can apply this gilding technique to just about any surface to add a brilliant metallic accent.
All supplies and equipment will be provided.
Note: If a date is sold out, join the waitlist to be contacted when a spot opens up.  
Teaching Artist
Melinda Prynne is a lifelong creative with extensive practice in painting and creating with the, "I can probably make that!" mindset. She grew up in a small town in Texas where she used her creativity as an outlet to get her through childhood and high school. Afterwards she did some travelling abroad, eventually landing in Portland where everything fell into place. She decided it was time to embrace her creativity by opening up her Etsy store, The Arty Narwhal, and beginning to search for jobs that would embrace her creative side. With a background in teaching combined with her fervent crafting, Assembly is her perfect niche! When Melinda isn't working on DIY projects and painting, you can find her tending to her plant babies, drinking her weight in tea, and on walks or cuddling her rescue dog, Milk, and her sweet British husband.
IMPORTANT NOTE:
In-person workshops are currently not available.
Check out our virtual classes to join in on the crafty fun!