[Online] Block Printing Class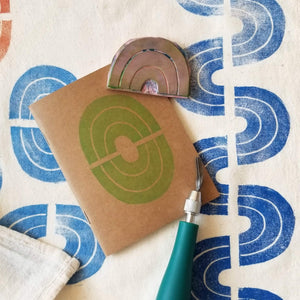 Product image 1
Product image 2
Product image 3
Product image 4
Join us for a live virtual online class to learn the art of stamp carving and block printing to create one of a kind handprinted items-- all supplies and equipment provided!
Follow along and ask questions in real time with instruction and demonstration from our talented Teaching Artist via the Zoom video platform. Class time listed is Pacific Time Zone. You'll log off with the inspiration to get started on your next project!  
Can't make the scheduled date? No worries! While it's best to attend the live session to get all your questions answered, it's not absolutely required. Everyone registered will also receive access to a recording of the class so you can complete the project on your own time. 
In this hands-on class, you'll plan a simple design and pattern, carve your stamp block, and explore printing with ink on various paper materials, including greeting cards, notebook covers, and more.
Block printing is one of the oldest types of printmaking and is an excellent way to make something truly by hand that can also be easily replicated!
In class together we'll create a block based on simple shapes to explore and test different techniques. The kit includes a second block for you to carve later with your own design!
No experience necessary and all supplies provided. The included tools, blocks, and ink in the supply kit can also be used for countless future projects after class.

How to join:
During the registration / checkout process, shipping costs for the supply kit will be added to the final total.
Supply kits typically ship about 2 weeks prior to class. Please sign up well in advance to make sure you receive your supply kit in time!
The class will be hosted virtually through Zoom and the details for joining will be emailed to you about 24 hours before class and it will also be included in the supply kit.
Class time listed is Pacific Time Zone.


SUPPLY KIT:
The Block Printing Kit includes:
Lino cutter carving tool with five different blades
2"x3" + 3"x3" high quality rubber block material
Cutting mat
Black multi-surface ink pad 
Pencil
Booklet with carving and printing tips
Items to print on:

Practice paper
Blank notebook (4.25"x5.5") 
Blank greeting card and envelope (5"x7")
In addition to your kit you'll also need:

Teaching Artist:

Liz Wright, the founder and Chief Creative Lady of Assembly, is a multi-disciplinary maker with an extensive history of creative projects and pursuits. She considers herself a lifelong learner and enjoys the challenges and thrills of learning a new skill and supporting others to do the same.